We Speak Mortgage®… and Love Translating it for You!
For serious homebuyers, the first step in the home buying process is to get pre-approved for a home loan. A mortgage pre-approval is when a certified lender, like Golden Oak Lending, provides an estimate of your loan amount, interest rate, and monthly payment based on a review of your credit score and overall financial health. An official pre-approval letter shows sellers you are serious about purchasing their property, and it can help your offer stand out in a competitive housing market.
Benefits of Being Pre-Approved for a Home Loan
Make a Strong Offer When making an offer on a home, a pre-approval letter shows you are verified by a mortgage lender to be financially capable of purchasing the home. In competitive housing markets, homes with multiple offers, or motivated sellers who want to sell quick, a pre-approval letter may make your bid more attractive than other interested buyers.
Determine Your Price Range As part of the pre-approval process, you can establish the price range of homes you can afford and determine your budget accordingly. Because pre-approval requires many of the same processes as a mortgage application, you will be able to accurately determine how much your lender is willing to offer you based on your finances and set your home search parameters. This ensures you do not waste time viewing homes you cannot afford because there is nothing worse than falling in love with a home out of your price range.
Early Correction of Problems Even if you pay your bills on time and have a reasonable debt-to-income ratio, you may still have unexpected errors or credit issues that prevent you from getting the mortgage you need. By seeking pre-approval, a certified mortgage lender will help identify any potential concerns with your mortgage application, which will give you time to improve your financial situation and place yourself in a stronger buying position.
Quicker Closing With a mortgage pre-approval, most of your financial information has already been verified early in the process, making the closing smoother and faster.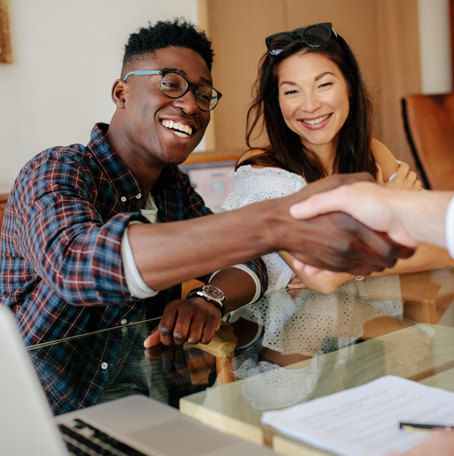 Mortgage Pre-Approval with Golden Oak Lending
As a certified mortgage lender, Golden Oak Lending can get you pre-approved and help you purchase your dream home. Our mortgage experts understand that any advantage that gives you an edge over the competition could be the deciding factor in securing your new home, so our team of lenders works hard to quickly process your application and provide you with the best estimate you qualify for. If you are ready to purchase your home, schedule a free consultation today and get pre-approved for a home loan!
Enjoy Hassle-Free Mortgage Lending