We Speak Mortgage®… and Love Translating it for You!
At Golden Oak Lending, we speak mortgage and love translating it for you. But what does that mean? The mortgage industry is full of technical, industry-based terminology and our experienced loan officers will help you make sense of it all in an easy-to-understand way. Our team uses this knowledge to align the right loan program that fits your needs and puts more savings into your pocket.
Whether you are a first time or experienced home buyer, or simply looking to refinance your current home at a competitive rate, to pay off debt or even get a little cash out for that home renovation project, Golden Oak Lending is committed to helping you achieve your financial goals. Being financially secure alleviates a lot of worries, and it is our mission to help you save money. We have been providing mortgage solutions for our customers since 2001 and our staff of experienced loan experts work closely with you to understand your specific circumstances and align you with a mortgage loan program that satisfies your financial needs. We invite you to speak with the Golden Oak Lending team soon!
Personalized Is Our Loan Process
At Golden Oak Lending, we pride ourselves on offering first-rate service to our customers. Simply put, we do all the work – all you have to do is call! All of our processes are done in-house, and you have one point-of-contact, your Personal Loan Officer, who is your advocate, and will work with you through every step of the loan process and deliver a great rate!
Your personal loan officer is:
State-licensed
Experienced, with extensive knowledge of the various mortgage loan options
Understanding, by working with you and listening to your needs to present mortgage options
Full-service – you deal with one person – there's no need to tell your story twice
We are an Equal Housing Lender as well as a member of the St. Louis Association of Mortgage Brokers. Golden Oak Lending has been a member of the Better Business Bureau since 2001 and maintains an A+ rating with the BBB.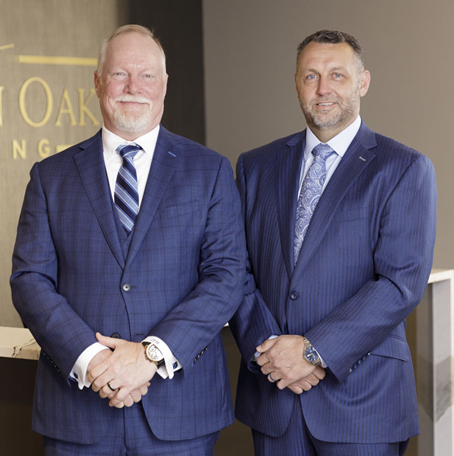 The Golden Oak Lending Difference
Unlike many other mortgage companies, we show you our current mortgage rates and loan options. We are always up front about our current interest rates and monitor rate trends so that our mortgage loan offerings remain competitive. Our goal is to save you money, so we guarantee a rate you will be happy with.
At Golden Oak Lending, from the underwriting to the closing, all of our processes are done in-house. An experienced Personal Loan Officer will be your advocate for getting you the assistance you need with today's mortgage rates. Your Personal Loan Officer is your sole point of contact for the entire process, so there is no need to retell your story multiple times to different individuals. You have the benefit of an experienced and qualified professional who will guide you through the process of finding and qualifying for the right loan that meets your specific needs.
Enjoy Hassle-Free Mortgage Lending