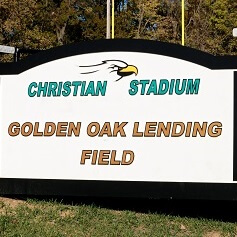 On October 13, 2017 Christian High School in O'Fallon Missouri announced that the football field would officially be named Golden Oak Lending Field during a formal ceremony prior to kickoff. Golden Oak Lending is proud to support youth sports in our community.
Glenn Huskey, CHS Booster Club Member said of the sponsorship:
"It is with great privilege and pleasure to announce that recently Christian High School entered into a long term Strategic Partnership with one of the fastest growing Lending Institutions in America Golden Oak Lending that creates a Community Synergy to foster Academics, Arts, Athletics and Christian Family Values throughout the Greater St. Louis Area Community!

Recently, Golden Oak Lending and CHS linked a Sponsorship Agreement for the newly constructed "State of the Art" Christian High School Event Field that includes Activities from Track & Field, Band, Soccer and Football just to name a few. In addition, Golden Oak Lending provided a generous contribution to Christian High School that assists in funding the CHS GAP Fund which provides Financial Assistance to CHS Students that are in need along with the support of the Event Field itself!

In closing, this impactful Strategic Relationship is truly cherished within the CHS Community as we look forward to our joint endeavors for many years to come!"
The ceremony was attended by Golden Oak Lending President James Hawkins, Executive Vice President Shawn Curtis, Chief Operating Officer Troy Watson, Senior Vice President Jason Walton, in addition to members of their families. Golden Oak Lending staff members and their families also joined in the dedication ceremony.
Enjoy Hassle-Free Mortgage Lending