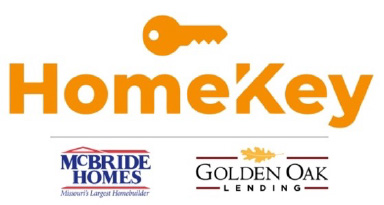 McBride Homes, Missouri's largest homebuilder, has entered into a joint venture with Golden Oak Lending, St. Louis's largest independent refinance provider, to create a new mortgage company, HomeKey Mortgage, LLC.
"We are thrilled to announce our latest venture, HomeKey Mortgage," said Jake Eilermann, President of McBride Homes. "The goal is to make financing a new construction home an easy-to-understand and stress-free process for our clients. This new mortgage company will focus on the needs of homeowners, plus quick, worry-free closings."
To enhance that experience, HomeKey Mortgage's licensed loan sales professionals will be available to assist customers in McBride communities, ready to engage with McBride customers looking to finance a new home.
"HomeKey Mortgage will not be distracted by refinancing or resale business," said Eilermann. "This joint channel exists purely to help homebuilders and new construction homebuyers. HomeKey is 100% focused on that transaction and the thousands of transactions to follow."
"Combining our 20 plus years in the mortgage industry and best-in-class customer service with McBride's home building expertise allows HomeKey Mortgage to offer the entire buying and financing process in one place, at one time. Customers will now have the easiest homebuilding process ever," said James Hawkins, President of Golden Oak Lending. "We are proud to further serve St. Louis families looking to fulfill their homeownership dreams."
Golden Oak Lending has funded over $10 billion in home loans and helped over 57,000 families with their mortgage needs.
"We know builder business and the complexities that make the new construction process flow different than what a traditional retail lender may experience," said Jeannie Aumiller, Senior Vice President and General Counsel of McBride Homes. "HomeKey's loan consultants, processors, and underwriters have the expertise to minimize risk and secure a much more predictable transaction which creates an exceptional customer experience."
McBride Homes has 40 active communities in the metro area and is the largest homebuilder in St. Louis and the state of Missouri. The company closed 892 homes in 2022.
HomeKey Mortgage will have a sales office in Chesterfield, and the main headquarters will be located in the Westport area.
"We are extremely excited to kick off this partnership with Golden Oak Lending in this joint venture," added Eilermann. "After a competitive review of several lenders, we found the lending institution that can partner with us to create a new lender to meet our unique needs. Golden Oak Lending has a reputation of first-rate service, and they provide a seamless and positive home buying experience for all new construction homebuyers. We know they will instill that level of service and experience in the new lender."
###
McBride Homes, celebrating over 75 years of building, offers new homes in 40 communities across metro St. Louis. As the largest home builder in Missouri, McBride Homes has built over 40,000 new homes across the metro area since 1946. McBride Homes is currently ranked as the 37th largest privately owned builder in the country and is 68th largest overall according to Builder Magazine with 892 closings in 2022. For a complete listing of their available communities, visit McBrideHomes.com

Golden Oak Lending has been a top lender in home mortgages for over 20 years. Known by most St Louisans because of their famous jingle: "Golden Oak Lending Cures My Blues", they are dedicated to helping every customer better their financial situation through personalized lending solutions. Our local teams of mortgage experts are committed to helping each customer throughout the financing process, be it for the purchase of their first home, or refinancing their forever home. For more information on Golden Oak Lending, visit GoldenOakLending.com NMLS 114937. Golden Oak Lending is licensed in 18 states with additional branches located in Cincinnati, Indianapolis, Kansas City, Nashville, and Pittsburgh.
####